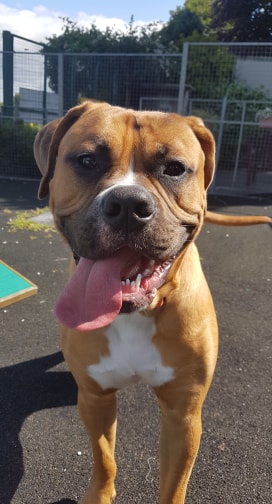 This beautiful boy is Muttley. He is 10 months old…I know right? He is a Mastiff cross who loves nothing more than a cuddle on the sofa and playing with his favourite toys! He really has no clue how big he is as he thinks that the best place to sit is right in your lap never mind how comfy his bed may be! Muttley came into our care as his previous owner was very sadly diagnosed with a terminal illness and could no longer care for Muttley.
Unfortunately shortly after his arrival at the sanctuary the staff noticed that Muttley's leg didn't seem quite right and he was swiftly taken to the vets.
Muttley has had his operation and after two days at the vets, is now recovering back at the sanctuary. He is doing unbelievably well and already beginning to bare weight on his leg, even though it's half titanium!
He is now looking for somewhere to call home and to recover in comfort. He could be rehomed with another dog and older children as he is very strong. He would make the perfect companion for someone who has the time for his size of breed.
If you are interested please call down to the sanctuary and talk to the dog unit manager or some of the staff!