HOW TO REHOME A SMALL FURRY
Adopting an Assisi Rabbit, Guinea Pig or other small furry
FOUR SIMPLE STEPS TO REHOME YOUR NEW BEST FRIEND
Fill in an application form – you can do this in person by coming to the centre during our rehoming hours
Match – our rehoming team will help you find your perfect pet and introduce you to them
Checks – Here at the sanctuary we will carry out veterinary and landlord checks.  We will also ask that you send pictures to our re-homing manager of where you intend to keep your new addition!
Rehome – Once the checks have been carried out and you have received all the advice you could possibly need, you'll be able to take your new friend home with you.
ASSISI'S REHOMING PROCESS
Our rehoming process is carefully tailored to each applicant, so please allow plenty of time. Our staff will always be on hand to discuss your individual requirements and answer any questions you may have during the process.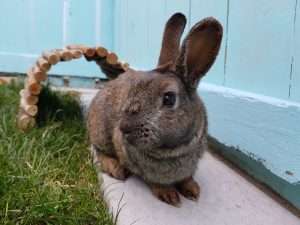 Adopting a rabbit or guinea pig is a little different to adopting a cat or dog as their requirements are different.  We will ask you to visit a few times to ensure that you have chosen the right pair of rabbits or guinea pigs for your family, but also to allow your new pets to become familiar with you.  We like to make sure you have all of the information you require before taking your pet home.  We ask that you do not purchase any small pet housing prior to coming to the Sanctuary, as we do have guidelines for small animal accommodation sizes.  If you already have accommodation, but it does not meet our guidelines, do not worry!  We will have a chat and adapt the accommodation to meet our requirements, ensuring that you have the most suitable type of housing without breaking the bank.  Our staff will guide you every step of the way. Only once your housing is ready and meets our housing criteria can you take your new pets home.
Other Information
Here at Assisi, we do not re-home an animal individually to live on their own unless the specific animal has a medical or behavioural issue that means they must. Our bunnies and piggies will be re-homed in pairs, ensuring they have their own same breed company. If you have a small animal that is looking for a friend, do not worry, we do have single bunnies or piggies on site waiting for their new friend too!
Bonding small animals can be a task in itself! If you have never bonded before, be prepared for some persistence and hard work! We will help you through the bonding process as much as possible; adapting the steps we take here at the sanctuary to fit your own at home! We have a few links that contain bonding information if you would like to get a general idea of how the process goes!
Our accommodation requirements for Rabbits:
The hutch must meet the minimum measurements, which according to the Animal Welfare Act is 6ft x 2ft x 2ft HUTCH + an additional 8ft x 4ft x 4ft RUN (or secure area to exercise in), and the 2 should be joined to allow rabbits to exercise when they want to.
Our accommodation requirements for Guinea Pigs:
To house a Guinea Pig indoors, accommodation must be 120cm at least, in length. This is the minimum requirement set with guidance from the Animal Welfare Act NI (2011) and also the Rabbit Welfare Association and Fund.
The minimum requirements for a hutch to house guinea pigs is as follows: 4ft (L) x 2ft (W) x 2ft (H). Anything smaller will not be deemed suitable. These requirements are set with the guidance from the Animal Welfare Act NI (2011) and also The Rabbit Welfare Association and Fund.
Additional Information
Further information about buns and pigs is availavle to download here!
Rabbit and Guinea Pig Adoption Guidelines
Making Friends with your Guinea Pig
Caring for the Elderly Rabbit
Confidence Building for Nervous Rabbits
The Importance of Neutering
Can't eat hay or won't eat hay?  Fussy rabbits explained
Life is better together – Bonding Advice
Biting the hand that feeds – aggressive rabbits explained
Making your home safe – 'Rabbit proofing' explained
What we expect from you
From every potential owner we expect:
A passion for rabbits and guinea pigs.
An understanding of the level of care needed by small animals.
Research to have been done into the feeding and care of rabbits and guinea pigs.
Willingness to provide the rabbits or guinea pigs with adequate housing, both in size and quality.
Willingness to provide the rabbits or guinea pigs with a loving and caring home for the rest of it's life, for a rabbit this can be for 10 years or more and for a guinea pig 7 years or more.
An understanding of a rabbit and guinea pigs behavioral needs and the ability to provide an environment suited to their specific needs.
An understanding of the potential future costs of veterinary bills if the animal develops a chronic condition.
What we do not expect
From every potential owner we do not expect:
You to have your accommodation already bought and set up. We prefer you to have nothing, we can guide you through what you need to buy or build.
You to know what sort of rabbit or guinea pig you want.
You to know everything about rabbits or guinea pigs.
You to have past experience with rabbits or guinea pigs.
You to know how to handle a rabbit or guinea pig.
We are here to guide you through the whole process. We prefer you to come up and chat to us first before you go out to buy a hutch or run. That way we can guide you through what you need to buy or even build, so that you do not end up wasting your money on something that is not suitable.
When placing a booking on rabbits or guinea pigs we like them to go to their new home as soon as possible, ideally within two weeks of placing the booking. We will however hold the booking for up to four weeks as we understand it can take a bit of time to get the accommodation ready and we would prefer you to take your time.
We are always at the end of the phone if you have any questions and we can be contacted by email at any time.